I don't have any relatives that are currently living outside the country.
But my uncle Bruno did live in Austria before he moved to the US in the 80s. In 1987, he married my aunt and officially became a member of the family.
Bruno is one of those people that when you meet, you automatically like him. He's someone you get along with. Whenever the family gets together, we love to joke around with Bruno.
We have this running joke that Bruno is like the TV character Al Bundy. Bruno's life mirrors Al's, the only exception is Bruno has a better job.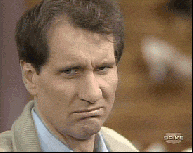 Bruno's been through a lot with my aunt and my cousins. There's been some dramatic moments they've pulled through the years.
Often times, we wonder why Bruno hasn't packed up and went back to Austria.
Bruno's a strong man for putting up with his family. He didn't realize how crazy we were until he married into the clan.